The Work That We Do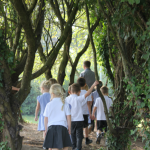 The main priority and focus for any governing body is School Improvement.  Governors are encouraged to ask robust and challenging questions to ensure that they are fulfilling their three core functions.
The full Governing Body receives a comprehensive report from the Headteacher every term covering all aspects of the School Improvement Plan, and information about progress towards targets and attainment.
They also receive reports and updates from any Committees held and from Lead and Link Governor monitoring visits, as well as making sure that all statutory responsibilities are being met.