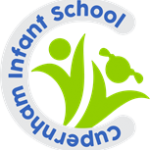 We are excited to have introduced our new school logo.  Uniforms will remain unchanged; only the logo is different.
There will be a two-year transition period from the old logo uniform to the new logo uniform so for children with current uniform please do not worry as you will not be required to purchase any new logo uniform until September 2023.
Our new logo bookbags, PE bags and caps are now available online for existing pupils.
For new September Year R starters, a Scopay registration letter will be issued the first week of starting school which will enable you to register and then purchase online. Ordered items will be taken directly to class.
You will be able to purchase the new logo uniform via Skoolkit: 
Skoolkit – All other uniform can be purchased directly from SkoolKit, from their shops, by telephoning 02380 647421 or online.
School Office – We have book bags (£4.50), PE bags (£4.50) and caps (£4.50) available to purchase online which will be delivered to your child/ren's class.
Skoolkit – Updated Price List
Our school colour is electric blue. Sweatshirts, cardigans and fleeces are worn with grey trousers, skirts, shorts or light blue gingham dresses.
Footwear should be safe for all daily school activities so open toed sandals/clogs and backless shoes are not appropriate. We ask for your child to have a pair of wellies kept in school to take advantage of our extensive grounds and outdoor learning activities.
Children will also need a PE kit to be kept in school: shorts, t-shirt, dark jogging bottoms and a sweatshirt, short socks, trainers (plimsolls not essential) in a named PE bag (please tie long hair back on known PE days).